GRAM Expo
GRAM Expo takes initiative to promote indigenous material of the country specially nature friendly products. GRAM is in search of all such goods produce by the natives in each corners of the land. With this aim GRAM franchised Grameen Check, located at 2nd Floor, Hashem Tower , Gulshan –Tejgaon Link Road,Gulshan-1 (Opposite to Arong).
Grameen check has become well known all around the world for pioneering a unique kind of fabric available in dazzling combination of colors. Keeping in view of the objectives of poverty alleviation and the need to accelerate the pace of our nation's development efforts, Grameen Check has been a leader in helping the poor by creating innovative business models. Most of the fabrics of Grameen Check come directly from the village based traditional weavers. These fabrics are then processed into readymade garments and offered in national and many international markets.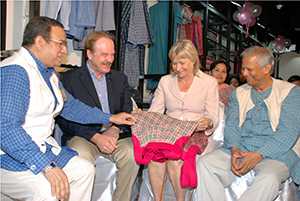 Novelist Dr. Mohammad Younus (Right), His Excellency Ambassador of USA Dan Mazina (From left 2nd) And other distinguished guests in Grameen Check-GRAM showroom.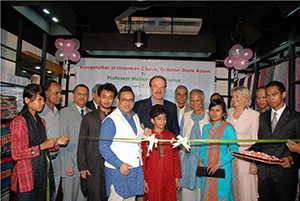 Novelist Dr. Mohammad Younus opening Grameen Check,GRAM Franchised Showroom at Gulshan 1.